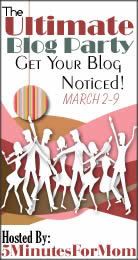 And, this is going to be a great one! Susan and Janice at 5 Minutes for Mom are hosting The Ultimate Blog Party March 2 – 9. A week long party…with prizes! The prizes are awesome, but the opportunity to check out some other blogs is the part that I love...well, I like prizes too!

I'll be partying all week long and the following week will introduce my faithful readers (yes, even those of you who I know visit, but still refuse to comment! Love y'all!) to new friends that I meet at the party.

I hope that many of you will join the party too!